Christ Apostolic Church (Vineyard Of Comfort)
History and Founder
The Christ Apostolic Church Vineyard of Comfort was founded in 1996 by General Evangelist, C.A.C Worldwide Prophet (Dr.) Samuel K.Abiara. The church has branches worldwide, with branches in London England, Dublin Ireland, Atlanta, Maryland, Toronto, Brandon  Manitoba and various branches in Nigeria West Africa (Headquarters in Lagos Nigeria).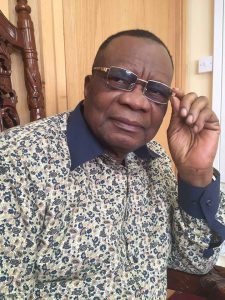 CAC Vineyard Of Comfort Planter Prophet (Dr) Samuel Kayode Abiara is the Chairman of Christ Apostolic Church (Agbala Itura) DCC Worldwide. He is the Director General of Christ International Evangelical Ministry (CIEM) and Chancellor of Christ International Divinity College (CINDICO) Erinmo, Osun State, Nigeria, an affiliate of Acadia University, Canada. Prophet Abiara , a minister divinely anointed by God for mass evangelism and the raising of dynamic soldiers for Christ , has been in the Ministry of preaching, teaching, and pastoring for over 40 years now. He is currently the General Evangelist of Christ Apostolic church Worldwide.
He has authored many books and God has helped him to spread the gospel across the nations, among which are Nigeria, Great Britain, America, Greece, and Canada. Prophet (Dr.) Abiara is married to Evangelist (Mrs.) Christiana Aduke Abiara who is a partner in propelling the wheel of the gospel of our Lord, Jesus Christ. The marriage is blessed with divinely ordained children and grandchildren.
Prophet (Dr.) Samuel Kayode Abiara
CACVOC North America Superintendent

 Christ Apostolic Church, Vineyard of Comfort North America
Rev. David Adenodi (Ph.D)
CACVOC North America Superintendent, 
Member Coordinating Council CACNA